Nanofiber Örtüler; Yara İyileştirme Dünyasında Kuantum Sıçrama

Özet Görüntüleme: 32 /

PDF İndirme: 40
Anahtar Kelimeler:
nanofiber, elektroeğirme, yara örtüleri, bitki özütleri
Özet
Cilt periyodik olarak kendisini etkileyen birçok dış faktöre maruz kalır. Bazen bu dış etkiler yaralara ve ciddi hasarlara neden olabilir. Bu durumda cilt, hasarlı dokuların restorasyonu, yeniden yapılanması ve iyileşmesi süreçlerine başlar ancak iyileşme sürecini engelleyebilecek veya yavaşlatabilecek birçok zorlukla karşı karşıya kalabilir. Yaranın iyileşme sürecini etkileyen dış etkenleri azaltmak ve iyileşme sürecini hızlandırmak için yara örtüsü kullanımı yaraların tedavisinde en iyi yol haline gelmiştir. Son zamanlarda yapılan araştırmalar, nanofiber kullanımının diğer yara örtüleri arasında en iyisi olduğunu ve büyük iyileşme etkileri ve maksimum yara koruması vaat ettiğini göstermektedir. Bu, nanoliflerin yapısının Ekstra Hücresel Matris (ECM) ile benzerliğinden ve nanoliflerin yüksek yüzey alanı ve yüksek gözeneklilik sağlayan yapısından kaynaklanmaktadır. Ayrıca nanoliflere farklı türde ilaçlar ve bitki özleri yüklenebilir. Ayrıca, nanolifleri üretmek için kullanılan elektro-eğirme yöntemi, ucuz ve çok yönlü bir yöntemdir. Bu derleme makalesinin amacı, yara örtüsü biyomateryalleri olarak nanolifler ve onların geleneksel örtülere göre avantajları hakkında kısa bilgi vermektir. Bitki ekstraktlarının önemli iyileştirici, antioksidan, antibakteriyel ve antienflamatuar özelliklerinden yararlanmak için nanoliflere çeşitli bitki ekstraktları yüklemek son zamanlarda birçok çalışmaya konu olmaktadır. Ayrıca, bu derlemede bu konuyla ilgili bazı yeni çalışmalar tartışılmıştır.
Referanslar
Dhivya, S., Padma, V. V., & Santhini, E. (2015). Wound dressings–a review. BioMedicine, 5(4), 1-5.
Borda, L. J., Macquhae, F. E., & Kirsner, R. S. (2016). Wound dressings: a comprehensive review. Current Dermatology Reports, 5(4), 287-297.
Kus, K. J., & Ruiz, E. S. (2020). Wound dressings–a practical review. Current Dermatology Reports, 9(4), 298-308.
Kamoun, E. A., Kenawy, E. R. S., & Chen, X. (2017). A review on polymeric hydrogel membranes for wound dressing applications: PVA-based hydrogel dressings. Journal of advanced research, 8(3), 217-233.
Liu, X., Xu, H., Zhang, M., & Yu, D. G. (2021). Electrospun medicated nanofibers for wound healing. Membranes, 11(10), 770.
Gizaw, M., Thompson, J., Faglie, A., Lee, S. Y., Neuenschwander, P., & Chou, S. F. (2018). Electrospun fibers as a dressing material for drug and biological agent delivery in wound healing applications. Bioengineering, 5(1), 9.
Bagheri, M., Validi, M., Gholipour, A., Makvandi, P., & Sharifi, E. (2022). Chitosan nanofiber biocomposites for potential wound healing applications: Antioxidant activity with synergic antibacterial effect. Bioengineering & translational medicine, 7(1), e10254.
Budovsky, A., Yarmolinsky, L., & Ben‐Shabat, S. (2015). Effect of medicinal plants on wound healing. Wound Repair and Regeneration, 23(2), 171-183.
Avci, H., & Gergeroglu, H. (2019). Synergistic effects of plant extracts and polymers on structural and antibacterial properties for wound healing. Polymer Bulletin, 76(7), 3709-3731.
Sylvester, M. A., Amini, F., & Tan, C. K. (2020). Electrospun nanofibers in wound healing. Materials Today: Proceedings, 29, 1-6.
Memic, A., Abudula, T., Mohammed, H. S., Joshi Navare, K., Colombani, T., & Bencherif, S. A. (2019). Latest progress in electrospun nanofibers for wound healing applications. ACS Applied Bio Materials, 2(3), 952-969.
Bhardwaj, N., & Kundu, S. C. (2010). Electrospinning: a fascinating fiber fabrication technique. Biotechnology advances, 28(3), 325-347.
Frenot, A., & Chronakis, I. S. (2003). Polymer nanofibers assembled by electrospinning. Current opinion in colloid & interface science, 8(1), 64-75.
Serbezeanu, D., Bargan, A., Homocianu, M., Aflori, M., Rîmbu, C. M., Enache, A. A., & Vlad-Bubulac, T. (2021). Electrospun Polyvinyl Alcohol Loaded with Phytotherapeutic Agents for Wound Healing Applications. Nanomaterials, 11(12), 3336.
Guo, Y., Wang, X., Shen, Y., Dong, K., Shen, L., & Alzalab, A. A. A. (2021). Research progress, models and simulation of electrospinning technology: a review. Journal of Materials Science, 1-47.
Osanloo, M., Arish, J., & Sereshti, H. (2020). Developed methods for the preparation of electrospun nanofibers containing plant-derived oil or essential oil: a systematic review. Polymer Bulletin, 77(11), 6085-6104.
Sharma, J., Lizu, M., Stewart, M., Zygula, K., Lu, Y., Chauhan, R., ... & Wei, S. (2015). Multifunctional nanofibers towards active biomedical therapeutics. Polymers, 7(2), 186-219.
Al-Kaabi, W. J., Albukhaty, S., Al-Fartosy, A. J., Al-Karagoly, H. K., Al-Musawi, S., Sulaiman, G. M., ... & Soliman, D. A. (2021). Development of Inula graveolens (L.) plant extract electrospun/polycaprolactone nanofibers: a novel material for biomedical application. Applied Sciences, 11(2), 828.
Derakhshan, M. A., Nazeri, N., Khoshnevisan, K., Heshmat, R., & Omidfar, K. (2022). Three-layered PCL-collagen nanofibers containing melilotus officinalis extract for diabetic ulcer healing in a rat model. Journal of Diabetes & Metabolic Disorders, 1-9.
Kharat, Z., Goushki, M. A., Sarvian, N., Asad, S., Dehghan, M. M., & Kabiri, M. (2021). Chitosan/PEO nanofibers containing Calendula officinalis extract: Preparation, characterization, in vitro and in vivo evaluation for wound healing applications. International Journal of Pharmaceutics, 609, 121132.
Fayemi, O. E., Ekennia, A. C., Katata-Seru, L., Ebokaiwe, A. P., Ijomone, O. M., Onwudiwe, D. C., & Ebenso, E. E. (2018). Antimicrobial and wound healing properties of polyacrylonitrile-moringa extract nanofibers. ACS omega, 3(5), 4791-4797.
Karuppannan, S. K., Bushion, J., Ramalingam, R., Swaminathan, S., Arunachalam, K. D., Kadam, A. A., ... & Chinnappan, S. (2022). Fabrication, characterization and in vitro evaluation of Melia dubia extract infused nanofibers for wound dressing. Journal of King Saud University-Science, 34(4), 101931.
Dos Santos, A. E. A., Dos Santos, F. V., Freitas, K. M., Pimenta, L. P. S., de Oliveira Andrade, L., Marinho, T. A., ... & Ferreira, R. V. (2021). Cellulose acetate nanofibers loaded with crude annatto extract: Preparation, characterization, and in vivo evaluation for potential wound healing applications. Materials Science and Engineering: C, 118, 111322.
Hashmi, M., Ullah, S., & Kim, I. S. (2020). Electrospun Momordica charantia incorporated polyvinyl alcohol (PVA) nanofibers for antibacterial applications. Materials Today Communications, 24, 101161.
Nikbakht, M., Salehi, M., Rezaya, S. M., & Majidi, R. F. (2020). Various parameters in the preparation of chitosan/polyethylene oxide electrospun nanofibers containing Aloe vera extract for medical applications. Nanomedicine Journal, 7(1), 21-28.
Kumar, L., Verma, S., Joshi, K., Utreja, P., & Sharma, S. (2021). Nanofiber as a novel vehicle for transdermal delivery of therapeutic agents: challenges and opportunities. Future Journal of Pharmaceutical Sciences, 7(1), 1-17.
Abrigo, M., McArthur, S. L., & Kingshott, P. (2014). Electrospun nanofibers as dressings for chronic wound care: advances, challenges, and future prospects. Macromolecular bioscience, 14(6), 772-792.
Xu, S. C., Qin, C. C., Yu, M., Dong, R. H., Yan, X., Zhao, H., & Long, Y. Z. (2015). A battery-operated portable handheld electrospinning apparatus. Nanoscale, 7(29), 12351-12355.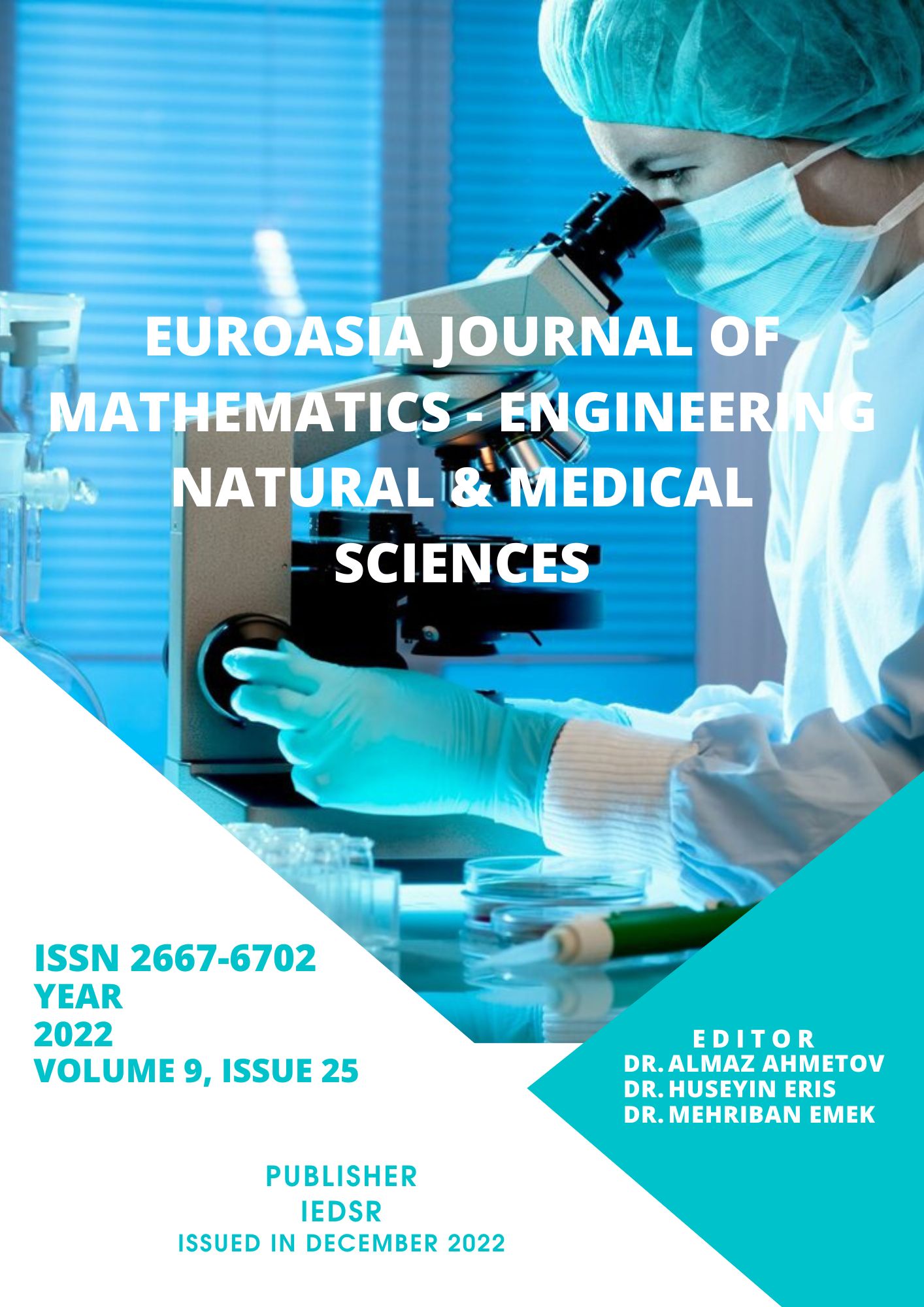 İndir
Nasıl Atıf Yapılır
Al horani, R., & Kepekçi, R. A. (2022). Nanofiber Örtüler; Yara İyileştirme Dünyasında Kuantum Sıçrama. Euroasia Journal of Mathematics, Engineering, Natural & Medical Sciences, 9(25), 37–43. https://doi.org/10.5281/zenodo.7474630
Lisans
Telif Hakkı (c) 2022 Euroasia Journal of Mathematics, Engineering, Natural & Medical Sciences
Bu çalışma Creative Commons Attribution-NonCommercial 4.0 International License ile lisanslanmıştır.